I told the team last week, and most of them knew this was coming for a while, but…I'm not on the Betties anymore.
For every skater retirement announcement, I send out a short tweet on the RCR account without any editorializing. Three Betties stepped down today. I went in alphabetical order: Dee Dee Monic, Frisky Sour, and Winnie the Pow, but by the time I got to the first "r" in my name I broke down and shook with tears. Yesterday I played roller derby; today I'm a former skater. My contributions are already past. Someone new will be drafted next week. I wouldn't say they're replacing me, but they're certainly taking my place.
I stepped down because it's time to do different ill-conceived, ridiculous, dangerous, brave things that make life worth living:  making babies and starting my own business. Internet, I hate to get so personal, but here we are – you can't gestate a baby and play roller derby at the same time. (No, I'm not pregnant, and that's the last you'll hear about my uterine contents for a while. Don't worry.) More to the point, you can't in good conscience lock up a roster spot if you can't commit to being around for the season. Someone else needs to train up and be ready to go against Rat City in December.
Let's not dwell, though, okay? I'll still be here. I'll be a superfan. I'll mirror for your bench coach. I'll slap your hand at the end of the game. I'll heckle Oly and yes, blog about roller derby. There may or may not be a new training montage next year. In fact, I was sitting on my couch crying about this when I got a text message from Mean and had to look up some information to email her. I felt very un-retired at that moment.
And come on: I didn't retire. I stepped off the roster. I can't tell you how I'll feel in a year.
I'll always be a Bettie. And a Farm Fatale.
First home team:
First travel team (hahahahahahaha, oh nice derby stance, kiddo!)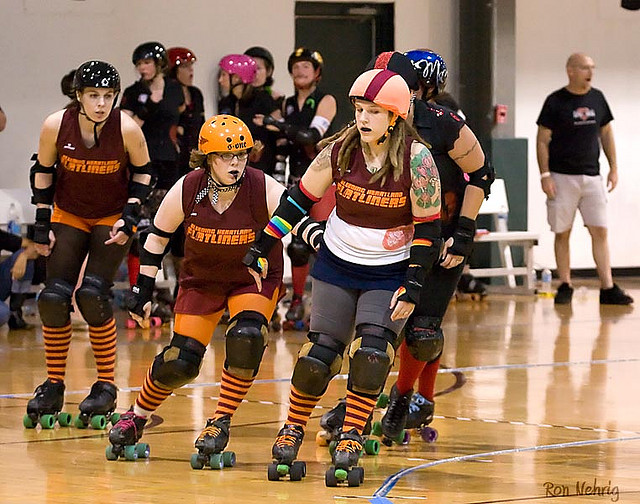 AoA (yes, they let me play with them for a while):
And my dear beautiful Betties. Farm Fatales, you were the first, but I'm sorry. The Betties have my heart.
*
*