The Wheels of Justice may have lost their game against Gotham this weekend, but they won the internet popularity contest for unveiling a move we're referring to as the pegassist. Observe.
The idea here is to use a backwards whip to get your jammer around a back wall. The blocker positions herself on the track boundary line, reaches back for the jammer with her arms crossed, and whips the blocker around opposing blockers, and back down in bounds.
It's a little easier to see the crossed arms in the gif from the inside track. Kickassidy is assisting White Flight: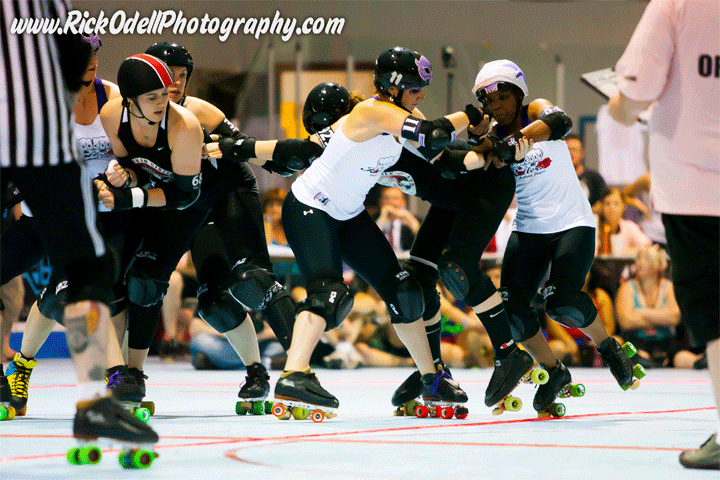 *Click to make it gif-tastic.*
I'm no expert when it comes to this move, but it's been knocking around in Rose City for a while. GNR used it in their third place game at the RCR Championships, and I've seen it in scrimmage a few times. Scratcher and Mel Mangles brought the idea to Portland. We don't own it or anything, internet, so don't get mad.  But as someone on Facebook said – yeah, it may have been tried, but no one has exactly been able to pull it on Gotham before.
And there you go. I think that at least gives us naming rights.
It's a new enough concept that the announcers didn't quite know what to make of it…
[youtube=http://www.youtube.com/watch?v=D5JOZZk8O1o]
Of course, some people hate fun and they're protesting that the move simply can't be legal:
That's a stopped block major! Stopped block major, terrible, terrible penalty!
The blocker who initiates the assist doesn't move forward much, but she moves forward. That counts.
Okay, it's not a stopped block major, but it was close!
Um, right. Done legally, it is legal. Like any other assist.
Misconduct for initiating an assist with someone who's in the air!
If only the jammer were leaping into her outstretched arms – that would be super adorable. But, no, they grabbed hands and then Kick pulled her over.
I always get called for misconduct when I try to jump the apex.
Sad story. The internet cries out for you. No, seriously, I hate those calls. But not every apex jump is illegal. It's a matter of who's initiating contact.
But her hips are out of bounds!
Please refrain from internet commenting on the legality of roller derby moves unless you are moderately familiar with said rules. (But for those who are wondering, you are out of bounds when any part of your body or equipment is touching the ground outside the track boundary. The tape is in. You can  jump and wave your arms over the track boundary as much as you please.)
________________
This is a breath of fresh air for a roller derby community whose latest strategies have been sucking the fun out of the game. The "standing around" strategy that Gotham is famous for establishes the pack speed at…stationary. Then there were the dudes who took intentional pack-destroying majors at the end of a game. Not fun, you guys. Kind of a bummer.
I'm glad that my league has made a conscious decision to skate, play derby, and come up with strategies that make that happen.
Team Fun!
****Update 6/26: Blaze and wftda.tv added a new video which includes the other pegassist from the game, from Mel Mangles to Acid.
[youtube=http://www.youtube.com/watch?v=fPvzEyEROUU&feature=youtu.be]