Welcome once again to the Frisky Power Rankings, where I rank women's flat track roller derby according to my whims/in-depth knowledge.
Wow, everyone! I don't feel like making jokes this month! And there haven't even been enough games or changes to make jokes about, so it's tough to rally. Maybe some gifs will help? What do you all like… puppies falling asleep?
Manatees?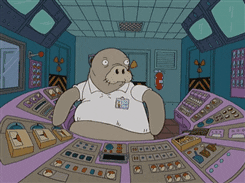 That episode has some serious issues with manatee ecology, by the way, though Alec Baldwin is v. good as always.
I know you like ice cream. How about Ron Swanson and ice cream?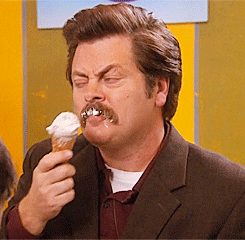 What about, instead of analysis or jokes, I just assign a Halloween candy to each team? 'Tis the season, after all.
Okay, sounds good to me.
Gotham. A Wonka Bar with a golden ticket,
London. Smarties: But the British kind.
Victoria. Violet Crumble.
Rose City Rollers. Peanut butter cups.
Texas. Hershey's bar (fun size).
Angel City. Skittles.
Bay Area Derby. Butterfinger.
Denver. Smarties: But the American kind.
Jacksonville. Laffy Taffy.
Rat City. Wax teeth.
Minnesota. Milky Way.
Arch Rival. Almond Joy.
What do you think? Who has power?  Let us know in the comments. Dish freely, or send me anonymous tips at @littleanecdote so I feel cool. (It doesn't hurt to ask.)