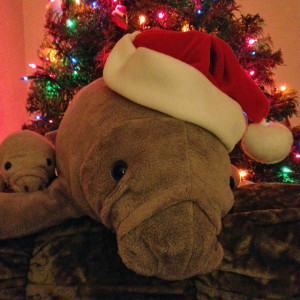 Happy Holidays, from my manatee to yours! Or to you, I guess. Hardly any of you have your own manatees.
Thank you for hanging out with me on the internet in 2013 and being a fun group of people to chat with and type to. Here's to 2014: May your bearings roll true, and your hearts revel in whatever brings you joy. Here's to remembering how to play roller derby if you took a year or more off to have a baby.
I'll tell you how that last thing works out.