This Manatee Monday, we have some brand-new adventures for you! My husband and I took this weekend as an opportunity to relax before I finish my book and birth our baby. Naturally, our manatee friend loves the beach, so he came along for the ride.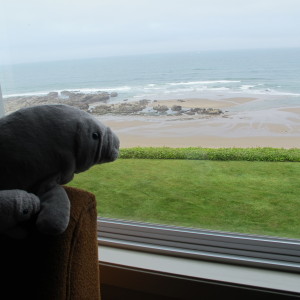 Manatee is pretty content to hang out and look out the window at home, so doing the same at the beach is a special treat. He had a pretty good perch to watch the ocean from our hotel room while we were just sitting around or out and about without him.
We couldn't let poor Manatee just hang out in the room all weekend, of course. At low tide, we went out to explore some tide pools. He was very distracted by tasty kelp and had to stop for frequent snacks. That's some fresh kelp!
I pointed out some little fishes and crabs swimming around in one of the larger pools. I kept a good hold to keep him from getting too excited and jumping in – that water is way too cold for manatees.
Anemones! Manatee and Baby get a good close look.
That was about it for the tide pools – I didn't want to venture out too far, what with my iffy balance. Later, my husband and I did get to see a sea lion and some seals…on our whale-watching trip. No whales to be seen. They don't allow manatees on whale-watching boats, for liability reasons, I suppose. There are some resident gray whales, mostly mothers and calves, that don't make it all the way to Alaska in the summer. These resident whales stick around to feed on the kelp beds off the Oregon coast. They were just somewhere else that day.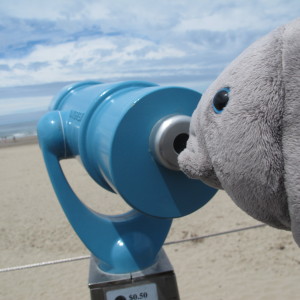 This is how Manatee has to do his whale-watching. He had about as much luck as we did. Oh well.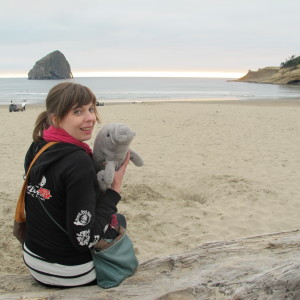 What a lovely weekend at the beach with a manatee friend! Maybe we didn't see any whales, but we had fun and napped and watched movies and saw some baby seals and I beat my sweetie at a racing game at the arcade (and he beat me soundly at Ms. Pac-Man and mini-golf, but whatever).
We made it home in time for dinner with my family for Father's Day. Thank you dad for making us pancakes and raising the bar for macaroni and cheese and teaching us to replace our divots in the front lawn and how to tie knots and all sorts of other useful things.
Thank you Brian for taking these pictures and putting up with my pregnant moods and giving up the couch for the last few months and going to baby class during the NBA Finals, only checking the score during our break time. You're already a great dad!