Earlier this week, things weren't looking so great at the Sour House.
We'd been informed by our landlord that he would be raising the rent. The next day we got the letter: as of August 1st, the rent would be increased by $380. My husband is a musician and teacher, and summer budgets are tight as it is. Baby Sour is due on August 9th. So we're being priced out of our apartment with 7 weeks to go in my pregnancy.
We sat in our child birth class that night, having agreed not to talk about the Great Matter until the next day, and listened to how helpless the baby will be for three months (and how helpless I'll be for two-six weeks). We decided that as crappy as it might be, we'll have to move before the baby comes.
It's been a few days, so this all feels a little less like a betrayal and a crushing blow, and more like your run-of-the-mill huge pain in the ass. Still, it's emotional. I moved into this apartment twelve years ago with friends, and it's been "in the family" ever since. We got engaged here. I was looking forward to taking baby home here. I'd like to put together a nursery now, not three days before baby is born (or three days after). I've got things to do, like get ready for the kiddo and go to movies while I still can and finish my book.
Speaking of finishing the book, though…
I got a much nicer email this morning.
I usually wake up and scroll through my new emails, mostly to postpone actually getting out of bed. This morning, I got an email from Kickstarter saying I had a new backer. "Oh, that's good," I think sleepily. Then I saw this: "$1000 is pledged toward your $1000 goal."
"Huh. That doesn't make sense. I only had a little over $600 in there," my sleepy brain reasoned. I looked at it again.
Amount pledged: $380 to "Frisky's Guide to Derby"
Someone I don't even know pledged the remainder of my funding goal. And in the exact amount that our rent is being raised.
I can't help but feel like it was a tiny miracle.
Holy crap! Now I've got my work cut out for me, huh?
I want to give a huge thank you to everyone who has read the book, shared the Kickstarter, or contributed. I never expected the support that I received, and I hope I can pay that back by making the best book possible.
If you have contacted me about working on graphic design or copy editing, I'll be emailing you soon. If you're interested, drop a line. All money from the Kickstarter will be paid to professionals within the derby community: skaters, former skaters, and volunteers.
If you still want to contribute, feel free to do so! Consider it pre-ordering a copy of the book in order to make it more awesome. Extra funds will go toward photography, illustration, and possibly a foreward by another skater.
Thank you, thank you, thank you. Since I can't high-five you all, just imagine me doing this.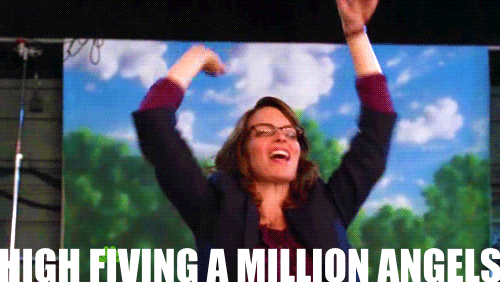 Oh, and by the way, I'll probably be a little busy for the summer (re: baby, book and moving). There may be posts a little less frequently, but I'll be around and on the laptop. Lots and lots of laptop time. I'm up for it.